The Countdown to Zero Waste – June Update
Our country has a waste problem. It's time for new solutions and a renewed commitment to move toward zero waste. PIRG and Environment America's advocates, organizers and members are promoting ways to reduce what we consume, reuse what we can, and recycle the rest.
A cascade of victories against plastic pollution in the Pacific Northwest
Oregon and Washington state have reaffirmed their status as national leaders in moving toward zero waste with the adoption of new laws this spring.
Oregon will phase out polystyrene foam foodware, packing peanuts and coolers, and make providing reusable container options easier for restaurants statewide. Washington state will require bottle filling stations in new buildings with water fountains and that lodging establishments use bulk dispensers for toiletries such as shampoo, soap and conditioner, phasing out unnecessary plastic waste from some single-use personal care items.
Environment Oregon, OSPIRG, Environment Washington and WashPIRG helped achieve these victories, the latest in a wave of state-level progress built up by the state organizations of The Public Interest Network's flagship groups, PIRG and Environment America, and our allies. Thanks to this progress, one-third of Americans live in a state that has banned some type of single-use plastic.
The '4th R:' Minnesota approves nation's broadest Right to Repair law
Minnesota Gov. Tim Walz signed the most comprehensive state Right to Repair law in the country on May 24.
Because repaired products avoid unnecessary waste, some advocates call it the "4th R," alongside reduce, reuse and recycle. Minnesota's landmark legislation will help reduce waste by requiring manufacturers to make spare parts, tools and repair information available to consumers and independent repair shops for a wide array of electronics.
"This is the biggest Right to Repair win to date," said Nathan Proctor, senior director for PIRG's Right to Repair campaign, who lobbied for the law. "Repairs cut waste and save consumers money. It's common sense, and it is becoming increasingly clear that manufacturers' attempts to thwart repair will no longer be tolerated."
Minnesota is the first state to extend the Right to Repair to home appliances and a range of commercial and business products, including commercial, educational and business computing, which were exempted from legislation in New York. The new law will go into effect on July 1, 2024.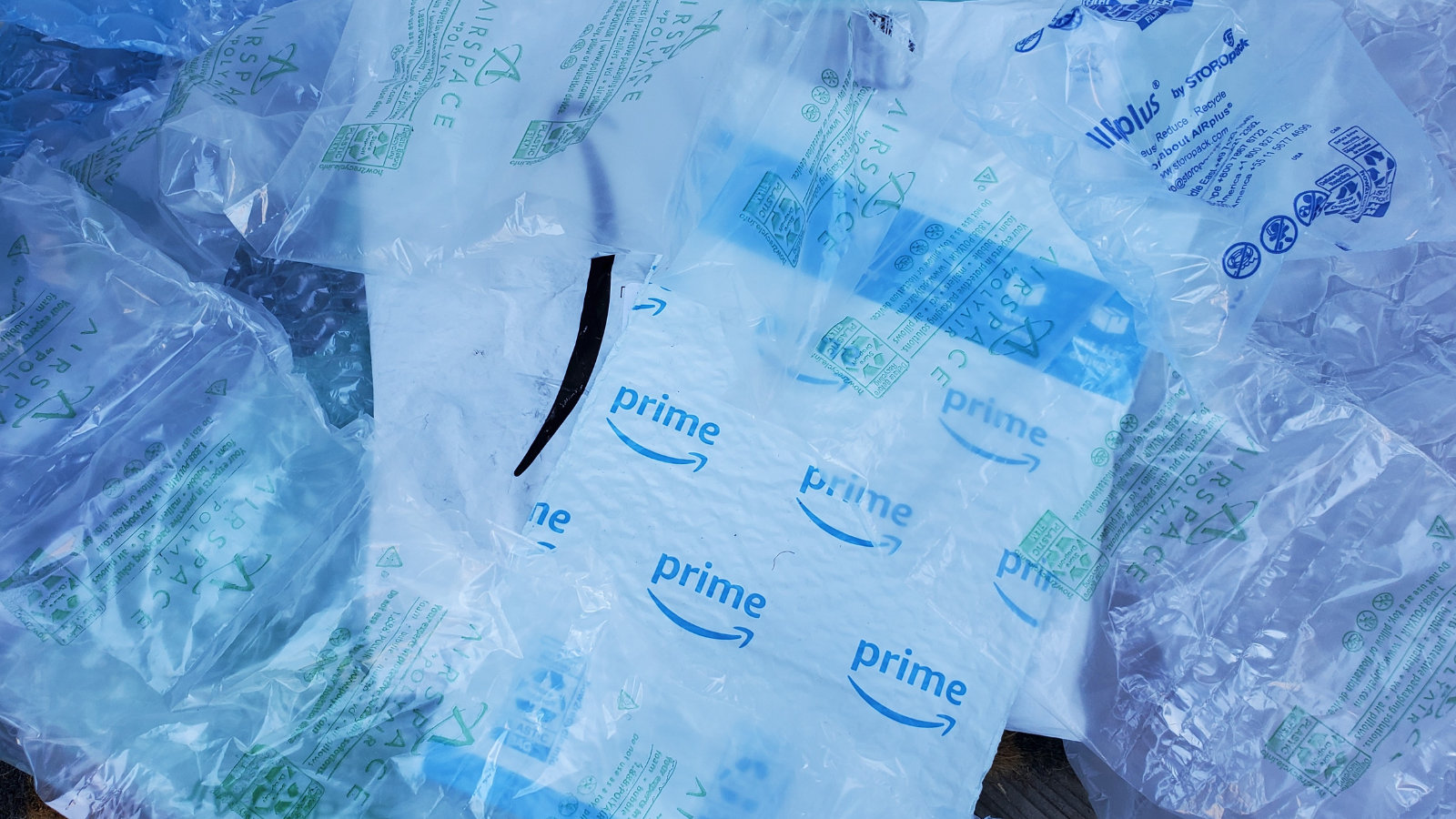 ​​Does Amazon's 'recyclable' plastic actually get recycled? Not always.
Amazon claims that many of its packaging items are widely recyclable, either through curbside recycling programs or store drop-off. CALPIRG State Director Jenn Engstrom and a group of volunteers decided to investigate just how accurate these claims really are.
The investigators put small electronic tracking devices into Amazon bubble-lined plastic bags and air pillows (which are marked with the How2Recycle label for Store Drop Off), removed shipping labels, wrapped each bundle in plastic grocery bags to prevent the tracking device from falling out, and dropped them in different plastic recycling drop bins across the Los Angeles area, as recommended by the how2recycle.info website printed on Amazon's packaging. Where did the recycled packaging end up?
Of the 10 plastic items dropped off in recycling bins, CALPIRG tracked four to a landfill, two to a waste transfer center (meaning they are likely headed to a landfill), two to out-of-state or out-of-country recycling centers, and two to the Port of Los Angeles, headed to who knows where. None of them ended up in California recycling centers.
CALPIRG is calling on Amazon to tackle the problem at its source by eliminating single-use plastic in their shipments in the U.S.
More than 52,000 Americans tell FTC: Crack down on misleading recycling claims
In April, Environment America, PIRG and Environmental Action submitted more than 52,000 comments to the Federal Trade Commission (FTC), asking the agency to prohibit the chasing arrows recycling symbol, the use of the word "recyclable," or other verbiage that implies a product is recyclable unless the item is actually recyclable.
Few rules exist governing what can and cannot be labeled as recyclable. Whether the recyclable label is affixed to a product is largely left up to the plastics industry.
Too often, that leeway results in misled consumers. For example, a "widely recyclable" label created by the plastics industry is showing up on plastic products that aren't accepted by most community recycling programs.
Consumers who want to reduce, reuse and recycle shouldn't be tricked. And we expect that when they learn that the "recyclable" and "widely recyclable" products they're buying aren't actually being recycled, more consumers will ask companies to reduce their wasteful single-use plastic products and packaging.
'Chromebook Churn' report highlights laptop waste in schools
Remote learning during the COVID-19 pandemic pushed schools to provide their students with their own devices, often low-cost Chromebooks. Now, many of these Chromebooks are failing, according to "Chromebook Churn," an April 18 report by U.S. PIRG Education Fund.
Here's the problem: Chromebooks have a built-in "death date," after which software support ends. Once laptops "expire," they no longer receive updates from Google and can't access secure websites. For example, expired laptops can't access online state testing websites. The upshot: Schools have piles of Chromebooks that aren't broken, but are now e-waste.
"We can't afford to stay on the disposability treadmill," said Lucas Rockett Gutterman, the author of the report and the director of U.S. PIRG Education Fund's Designed to Last campaign. "For the sake of Americans' wallets and America's environment, tech devices should last longer. Google can lead the way by slowing down the 'Chromebook churn.'"
Topics
Author
Executive Vice President; President, PIRG
As president of PIRG, Faye is a leading voice for consumer protection and public health in the United States. She has been quoted in major news outlets, including CBS News and the Washington Post, about issues ranging from getting toxic chemicals out of children's products to protecting Americans from predatory lending practices. Faye also serves as the executive vice president for The Public Interest Network, which PIRG founded. Faye began her public interest career as a student volunteer with MASSPIRG Students at Williams College. After graduating in 1992, she began working with the Student PIRGs in California as a campus organizer and organizing director, working on campaigns to help students register to vote and to promote recycling. She lives in Denver with her family.