Does Amazon "recyclable" plastic packaging actually get recycled? Well…maybe not.
Research conducted by CALPIRG volunteers points to yet another reason Amazon should move away from plastic packaging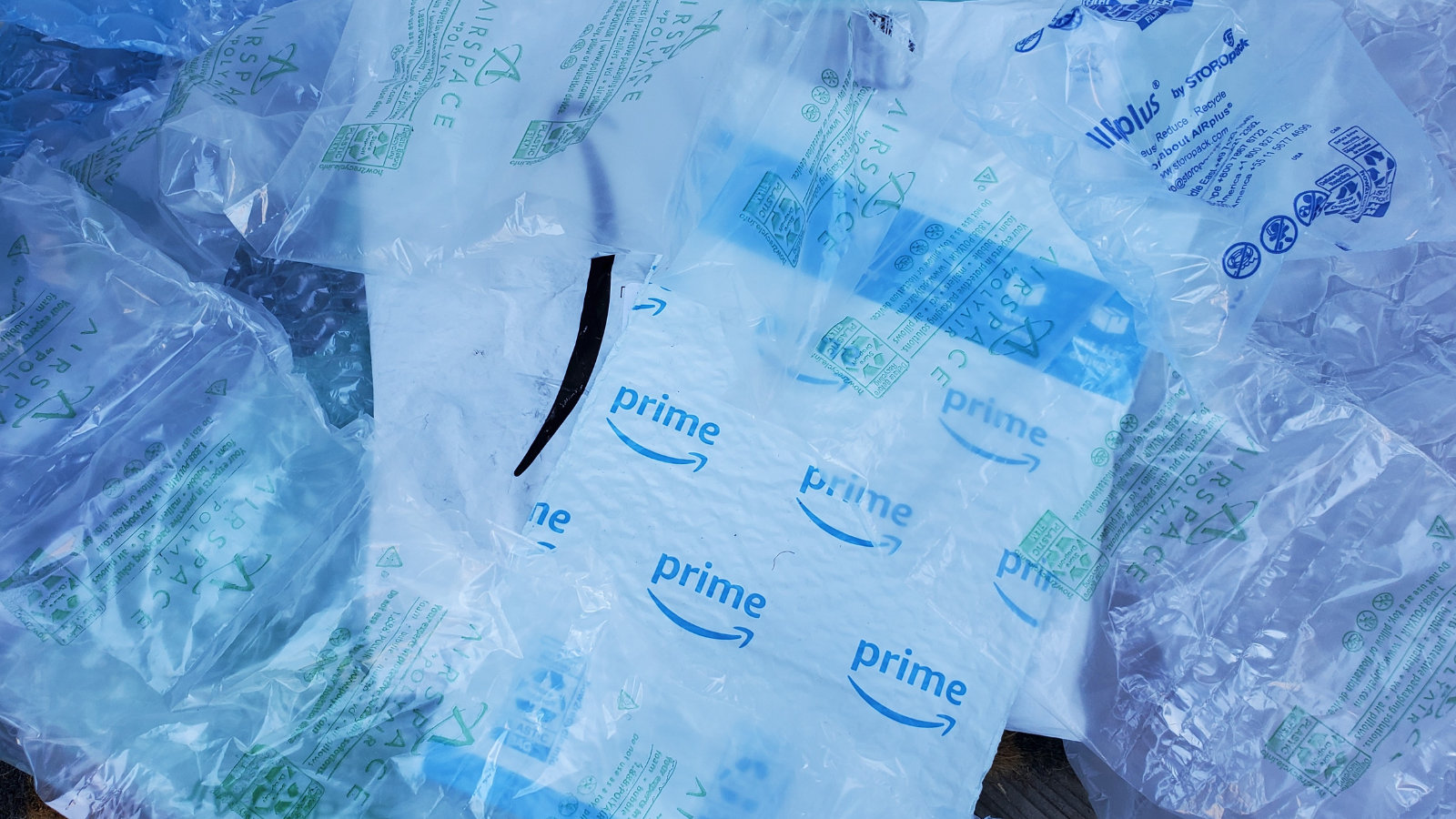 Close
Tell Amazon: It's time to move beyond wasteful single-use plastic packaging
Tell Amazon: It's time to move beyond wasteful single-use plastic packaging
ADD YOUR NAME
It seems like every time I order something online, I'm confronted with a pile of packaging- envelopes, bubble wrap, Amazon air pillows. 
When it comes to the sustainability of that packaging, some companies are clearly better than others. I've ordered wine packaged in recyclable compressed cardboard and hair products packaged in a box surrounded by recyclable brown paper. But I've also ordered a pillow that came wrapped in yards of plastic bubble wrap (because it was… breakable??), and a small cosmetic item in a big box filled with plastic air pillows. 
Now multiply my purchases by all the online customers in the country, and imagine the plastic. 
Amazon generated 600 million pounds of plastic waste nationally in 2020 alone, according to a report by the ocean conservancy group Oceana. 
Where does all that plastic go? 
It's not a happy story.  79% of the plastic we use (and generally use only briefly) ends up either in landfills or loose in the environment. 12% of plastic gets incinerated, producing pollutants which are bad for public health and our climate. 
Only 9% of plastic ever produced has been recycled.
Amazon claims on their website that many of their packaging items are widely recyclable, either through curbside recycling programs or store drop-off. I was curious how effective the plastic recycling of Amazon packaging items actually is, so a group of volunteers and I investigated. 
When I receive a package from Amazon, it's either in a cardboard box (potentially wrapped in air pillows, which pop satisfyingly under your heel but then leave… just a piece of plastic), a paper mailing envelope, or a plastic mailing envelope. All of these items come labeled with a chasing arrows recycling symbol and the website how2recycle.info.  The website helps you further interpret the variations in the labeling.  
The cardboard box and paper mailer (shown below on the left) have a chasing arrows symbol with nothing inside, which indicates the product is widely recyclable and can be placed in most curbside bins. That makes sense to me; I know cardboard and paper are recyclable. 
The plastic mailing envelope (which Amazon calls their "bubble-lined plastic bag," shown above in the middle and right) and air pillows have the same chasing arrows symbol, but on this packaging the symbol is not empty; it  surrounds the phrase "store drop-off." This slight difference in the image is supposed to convey that yes, the product is recyclable, but it cannot be placed in your curbside bin.  Instead, you should go online to look up the closest store drop-off that accepts plastic bags. When you visit how2recycle.info to find that convenient store drop-off location, you are redirected to bagandfilmrecycling.org where you plug in your zip code to find the closest drop-off. In my area, that means my local Target, Sprouts, Kohls or Vons. The site suggests that you call the store you are going to visit to confirm that they are still participating in the program. 
Does the store drop off system work?
We wanted to learn more about the store drop-off process, so we started calling stores. Do they really accept Amazon packaging? What do they do with the plastic? Does it really get recycled?
We called stores listed on the bagandfilmrecycling.org website in 49 different zip codes in California. We found that 20 of the 33 stores we talked to said they do not accept Amazon plastic bubble-lined bags. 
To find out whether this information was correct, we went to see for ourselves. Our volunteers went to Targets, Sprouts, and other stores across the Los Angeles area. Every store listed on the bagandfilmrecycling.org site indeed had a bin for plastic bags, which the website indicates are also good for recycling Amazon packaging. The one at my local Sprouts said "Recycle Plastic Bags Here."
So, the people answering the phones at the stores seemed ill-informed, which doesn't serve Amazon customers very well and makes it more likely that plastic ends up in landfills.  
But the story gets worse. 
Our next question was, where does the deposited plastic go? 
To find that out, CALPIRG volunteers put small electronic tracking devices into Amazon bubble-lined plastic bags or air pillows  (which are marked with the How2Recycle label for Store Drop Off), removed shipping labels, wrapped each bundle in plastic grocery bags to prevent the tracking device from falling out, and dropped them in different plastic recycling drop bins across the Los Angeles area, in sites all recommended by how2recycle.info. Here's where those mailers ended up: 
Packaging dropped at Target in downtown Los Angeles ended up in

Sylmar landfill.

Packaging dropped off at Sprouts in Culver City ended up in a plastics recycling center in Mexico which has come under fire by

Mexican environmental groups

for supposedly "greenwashing."

Packaging dropped off at Kohls in Northridge ended up in the Antelope Valley landfill 

Packaging dropped off at Winco in Norco ended up in the Trex Valley Warehouse in Nevada, which is self-described as a recycling center. 

Packaging dropped off at Target in La Verne ended up at shipping container in the Port of Los Angeles

Packaging dropped off at Sprouts in Torrance ended up at he Waste Management Carson Transfer Station and then the tracker died. 

Packaging dropped off at Target in Westwood ended up in the DeGarmo Dump Transfer Station in Sun Valley

Packaging dropped off at Albertsons in San Clemente ended up in a shipping container in the Port of Los Angeles 

Packaging dropped off a Gelsons in Dana Point ended up at the San Juan Capistrano Landfill

Packaging dropped off at Target in Vista, CA ended up at the Santee Landfill.
That means, of the ten plastic items dropped off in recycling bins with a tracker, four ended up in a landfill, two ended up in a waste transfer center (meaning they are likely headed to a landfill), two went to out-of-state or out-of- country recycling centers, and two are currently in the Port of Los Angeles headed to who knows where. None of them ended up in California recycling centers.
Our partners at the Last Beach Clean up did a similar experiment with plastic grocery bags and other plastic packaging. They found that four of five of the trackers they placed in plastic packaging in recycling drop-off bins went to landfills or incinerators, while one went to the recycling center in Mexico that has come under fire for "greenwashing."
What does this mean?
This small-scale experiment by CALPIRG Students and The Last Beach Cleanup suggests that the store drop-off system for recycling plastic film is failing. Now, it could be that every one of our plastic items that ended up in a landfill got contaminated with food waste or other trash that made the product non recyclable – but it seems unlikely that happened in every case. It could also be that the trackers themselves were detected as contamination, but they probably would have arrived at a recycling center before being detected.  More likely, the material is not getting recycled, because, as we've suspected, the market really doesn't exist for recycling plastic film. 
Though some of the plastic items did end up in a recycling center, it is a problem that none of them went to a recycling center in California. Rather than clean up our own mess, we're simply shipping it to other states or other countries to deal with. Not to mention moving the plastic overseas where state or federal regulators have no power makes it harder to know if it's actually getting recycled 
The system that Amazon is using to help customers recycle, which demands considerable attention and follow-through from the consumer, is failing on both the front end, where consumers get bad information about the program, and on the back end, where nothing is getting recycled in our state. 
The plastic is being used once before likely getting landfilled, or, worse, ending up in the wild where it litters our communities, harms wildlife, and even finds its way into our bodies. 
So what should we do about it? We could push for improvements to recycling, but no matter how much Amazon and others want us to think recycling is the answer, for plastic it never has been and likely never will be.  The better approach to plastic packaging is to just stop using it. 
That's why CALPIRG is calling on Amazon to eliminate single-use plastic in their shipments in the US.
Amazon has already committed to stop using most single-use plastic in shipments within Germany and India. Biodegradable and recyclable alternatives to single-use plastic film are available now and substitutes are already being used by companies, including Amazon. So there's no excuse for the company's continued use of plastic packaging in the U.S.
It's time for Amazon to commit to phasing out plastic packaging in their U.S. shipments. The shareholder advocacy group As You Sow has filed a resolution that would require Amazon to make a plan to reduce its plastic use by 1/3, and shareholders are likely to vote on this resolution this month at the next Amazon meeting, so now is the time to urge the company to act. 
Amazon should approve this resolution and take further action to reduce its plastic waste. Sign our petition calling on Amazon to eliminate plastic packaging. 
Topics
Authors
Jenn directs CALPIRG's advocacy efforts, and is a leading voice in Sacramento and across the state on protecting public health, consumer protections and defending our democracy. Jenn has served on the CALPIRG board for the past two years before stepping into her current role. Most recently, as the deputy national director for the Student PIRGs, she helped run our national effort to mobilize hundreds of thousands of students to vote. She led CALPIRG's organizing team for years and managed our citizen outreach offices across the state, running campaigns to ban single-use plastic bags, stop the overuse of antibiotics, and go 100% renewable energy. Jenn lives in Los Angeles, where she enjoys spending time at the beach and visiting the many amazing restaurants in her city.